FunCon01 - our first internal conference
Carl Eriksson
Fredrik Rubensson
Tommy Appel
Collaboratively written by Tommy Appel, Carl Eriksson, and Fredrik Rubensson during a FunCon 01 open space.
For some time a group of people at Funnel has met monthly in something called Speakers' Corner - a forum for speakers both new and experienced to share insights about public speaking. Some of us have spoken at both internal and external events and this forum has been a way to share insights within our group. The people involved also overlap with those contributing to this blog. With our new office in central Stockholm we had great plans to host lots of fun events, but due to the pandemic situation we haven't been able to do much this year. An early idea discussed in Speakers' Corner was to create a lightning talks conference as a nice way to share knowledge, with a low barrier of entry.
So in early September we started planning FunCon01. The first Funnel conference. The hype was real - we coerced people into speaking, made T-shirts, and spammed Slack channels to get people to join. This time we limited the context to our tech organization, but who knows - maybe we will do it for the entire company in the future. Even before doing the first one we knew that we wanted to continue doing this - hence the numbering of the conference. 
We had some main ideas about the central topic of the conference. We have a couple of teams trying new programming languages so it was a natural starting point to have one talk for each of these languages.
Everyone was given the chance to have a lightning talk, and some people got some friendly "nudge nudge wink wink" encouragement to step up. This led to seven different speakers covering the following:
Trusting your tmate - Varuna Dharmadasa described how his team - one of the plugin teams - uses tmate as one of their tools to make remote work more fun and efficient.
Everything Rust - Ulf Åhammar in one of the platform teams gave an introduction to Rust and showed some real code using a super fast web framework.
Everything Go - Daniel Sjövall who works with data exports started the language war and gave an overview of the Golang and showed some real world code from one of the export flows.
Everything Typescript - Peter Lundberg - core developer - stayed in the editor all the time showing us the difference between Javascript and Typescript and pointed out the places where the latter shines.
Fun-ctional frontend - Filip Hedberg from our self service team had a presentation on steroids where he successfully showed the benefits of Clojure by switching between a sweet presentation and live coding.
Re-learning Creativity - Eric Idebro - our eminent design coach - explains how a study shows that 98% of 5-year-olds can be considered creative geniuses, but only 2% of adults can be considered the same. He then goes through how we can relearn being creative again.
One of the books from the book club: Team Topologies was the topic for Ville Svärd - one of our CTOs. In quite a short time he went through the main principles of the book and how they relate to our way of working here at Funnel.
After a well deserved lunch, it was time for open space, a format for organizing and running a meeting where the content is created by the participants around a specific topic. This was divided into two separate time slots, where you were given the chance to enter a topic to talk about, either influenced by the lightning talks, or just something else that one wanted to discuss.
Once the open space began, the Funneler's could choose between the different topics, with associated meet-links, and jump in and participate. As always when it comes to open spaces, there is only one rule, that there are no rules. This means that the format can differ, and whatever happens is fine. Should you feel that the discussion doesn't interest you in the way you thought it would, it's okay to leave and join another one.
One of the open spaces was spawned from the "Re-learning creativity" lightning talk, where we discussed what we could do to be more creative at work (or at home), why creativity is important for our continuous growth as people, and some tips'n'tricks on how and what we Funneler's do to get our mind-juice flowing. This eventually led to the new Funnel ice-cream (FunCream), courtesy of our colleague Johanna Samuelsen.
Another topic for the open spaces was about the value and difference between Coaching Cards by Resultatbolaget, and Jimmy Cards. The grand conclusion was that they are pretty much the same, with Jimmy Cards being slightly more directed towards professional life and topics than the Coaching Cards.
Lastly there was an epic recursive open space to write a blog post about the conference and if you have read this far you have experienced the result of that session!
Running open spaces and workshops remotely felt like it would be a challenge but it went much better than we could have hoped for. In total, there were eight open spaces and two workshop sessions throughout the day. The day ended with a short reflective moment to ponder on the day and find out how we can make the next FunCon even more awesome.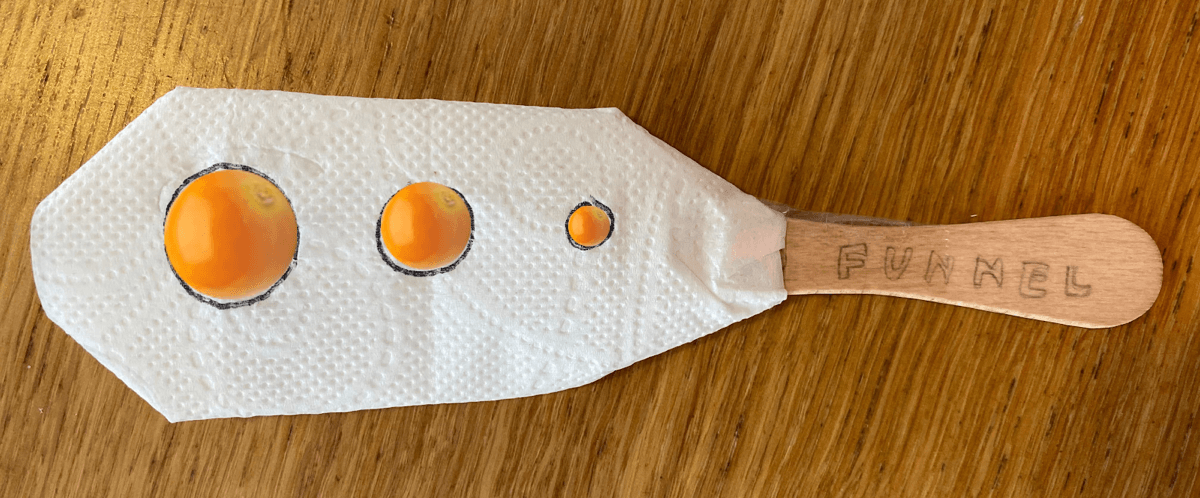 Finally focusing our foresight on future FunCons.